How will SYLFIRM X technology enhance your business?
Your patients will love the results they get from the cutting edge Sylfirm X RF microneedling system with dual wave tech, and you will love the multiple revenue-generating opportunities it will bring to your practice. 
Sylfirm X is the latest innovation in RP (repeated ultra-short pulse) microneedling technology that reacts to ONLY abnormal blood vessels and tissue to selectively treat increased pigmentation and vascular lesions—it is the only RF microneedling device approved to safely treat neovascularities including hard-to-treat conditions like rosacea and melasma. 
This latest generation system is clinically proven to safely and effectively address a number of issues, including wrinkles, redness, acne scars, minimizing pores, and improving the overall look and tone of the skin.
Invest in the Latest Aesthetics Technology
One Device–12 Treatments!
MINIMIZES Pigmented Lesions
PROMOTES SCALP CIRCULATION
Minimal Downtime
Little to No Pain
Improves:
Skin Laxity
Vascular Pigmentation Minimizes
Appearance of Scars
Skin Texture & Tone
Skin Rejuvenation
How it works
How Does the Sylfirm X  Device Work?
Sylfirm X uses Regional Regeneration Radio Repeated Pulse (RP) microneedling to target and treat the abnormal vessels that can lead to melasma, rosacea, and other skin discolorations. With the help of many micro electrodes, an electromagnetic field of energy is created that can penetrate the dermal layer without damaging the tissue. 
A robotic system ensures the precise application of the evenly-layered electrodes to reach the desired depth during treatment. By covering all dermal layers, microneedling treatments are faster, more effective, and more comfortable for patients. Additionally, practitioners can choose from eight modes depending on the goals of the treatment.
Benefits
The Sylfirm X

Device Benefits
Choosing Sylfirm X technology comes with a number of benefits for both the practitioner and the patient:
Quicker treatments (your patients will appreciate this and it also means you can see more people in a day)

Minimal discomfort for patients

Multiple functions create several revenue-generating opportunities

Minimally invasive

Incredible results

Minimal or no downtime

Immediately visible results for many patients

Microneedling tip designed for operator convenience
Whether your clients want to reduce the lines and signs of aging, fade old acne scars, or generally tighten and invigorate their skin, XCITE has the technology you need to serve their needs.
Video
Watch this
Sylfirm X
Microneedling video for more info.
Questions?
Sylfirm X Microneedling Frequently Asked Questions
How many Sylfirm X treatments are needed?
Many patients will see visible improvement in their skin within just one treatment. Depending on the specific patient and their goals, up to five treatments may be recommended. 
How will Sylfirm X grow my business?
With a single microneedling machine, you can offer your patients up to 12 different treatment options with proven results for treating melasma, rosacea, and other skin concerns. Not only does this create multiple revenue-generating opportunities for your practice, but it also means you can help more people and impress your patients along the way.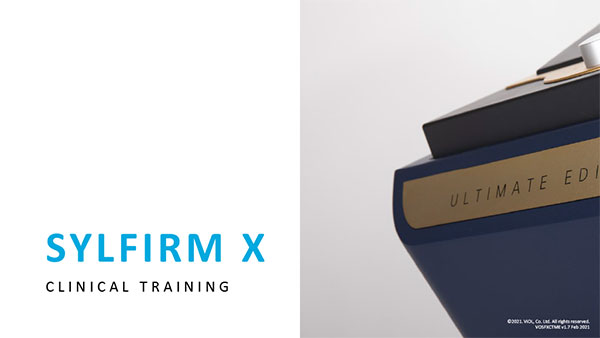 Sylfirm X Brochure
Download the brochure for additional information and complete product specs.
Contact us for a demo.
Learn why the Sylfirm X is the most advanced skin care device on the market offering multiple different revenue streams.
Xcite Technologies Inc.
137 Glasgow St Kitchener ON N2G 4X8